Celebrate National Caramel Day with Martina's Kitchen Mix
Happy National Caramel Day, everyone!
Let's celebrate together with a couple of gooey caramel Martina's Kitchen Mix recipes.
You'd think baking homemade caramel would be a sticky mess, but I can promise you it's not! Trust me, the homemade stuff is worth it and with my recipe it becomes easy as cake (Apple cake to be specific… but we'll get into that in a second).
Let's start off by making the homemade caramel sauce and then I'll get into the Apple Cake, where it will be used as the topping!
Oh! And sing along to My Recipe Playlist for Real Life while you cook. I'm pairing a song from the playlist with each recipe I post and for this one I've chosen, "I'm Gonna Love You Through It."
Listen to Martina McBride's Recipe Playlist for Real Life
Homemade Caramel Sauce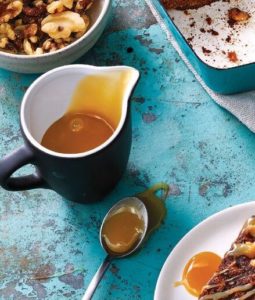 INGREDIENTS:
1 cup packed light brown sugar
1⁄2 cup half-and-half
4 tablespoons butter
Pinch of kosher salt
DIRECTIONS:
Cook the sugar, half-and-half, butter, and salt in a small saucepan over :medium-low for 5 to 7 minutes, whisking slowly until thickened.
Remove from the heat, and let cool slightly before serving.
Fresh Apple Cake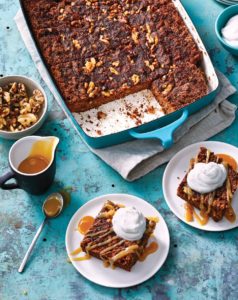 INGREDIENTS:
1⁄2 cup butter, softened
2 cups sugar
2 large eggs
2 cups (about 2 apples) grated
unpeeled Granny Smith apple 2 cups all-purpose flour
11⁄2 teaspoons baking soda
2 teaspoons ground cinnamon 1 1⁄2 teaspoons ground cloves
1⁄4 teaspoon kosher salt 1 cup chopped walnuts (optional)
Homemade Caramel Sauce
Whipped cream or ice cream (optional)
DIRECTIONS:
Preheat the oven to 350 ̊F.
Beat the butter with a mixer at medium speed until fluffy; gradually add the sugar, beating well. Add the eggs, 1 at a time, beating just until blended after each addition. Add the apple, beating just until blended.
Whisk together the flour, baking soda, cinnamon, cloves, and salt; add to the butter mixture, and mix just until blended. Stir in the walnuts, if desired.
Pour into a lightly greased 13- x 9-inch baking pan.
Bake 30 to 35 minutes or just until a wooden pick inserted :in the center comes out clean. Let cool on a wire rack
10 minutes.
Serve with Homemade Caramel Sauce and, if desired, whipped cream or ice cream.TIP: You can use most any kind of apple. Gala or Red Delicious work great too.