Martina's Kitchen Mix
Valentine's Day Meal and Recipes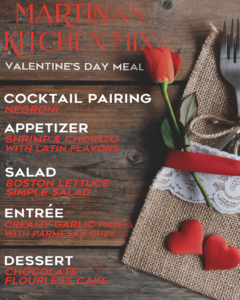 Martina's Kitchen Mix has some of my favorite, go-to date night meals. So I wanted to share a few of my favorites that you can make for your loved one on Valentine's Day! What's better than quality time and good food, right?
These Martina's Kitchen Mix classics are easy and fun to prepare. So get ready for a Valentine's night in with my five course Martina's Kitchen Mix Valentine's Meal.
COCKTAIL PARING: NEGRONI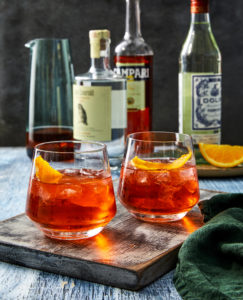 Serves 1          Hands-on 5 minutes   Total 5 minutes
1 ounce gin
1 ounce Campari
1 ounce sweet vermouth
Garnish: orange peel
Instructions:
Stir together the gin, Campari, and sweet vermouth in a rocks or martini glass. Add ice, and garnish with orange peel, if desired, or serve up without ice.
TIP: You can also mix all ingredients into a cocktail shaker with ice, shake, and strain into a martini glass or Champagne coupe.
APPETIZER: SHRIMP & CHORIZO WITH LATIN FLAVORS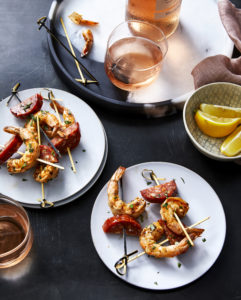 Serves 8 as an appetizer         Hands-on 35 minutes
Total 4 hours, 35 minutes, including 4 hours chilling
2 tablespoons sherry vinegar
3 tablespoons extra-virgin olive oil
½ cup chopped fresh parsley
2 teaspoons lemon zest
¾ teaspoon smoked paprika
1/8 teaspoon kosher salt
¼ teaspoon black pepper
1 large bay leaf
1 pound large raw shrimp, peeled and deveined
1 (8-ounce) package smoked chorizo (such as Boar's Head)
Instructions:
Whisk together the vinegar and next 8 ingredients in a large bowl. Add the shrimp, tossing to coat. Cover and chill 4 hours.
Preheat the grill to medium.
Drain the shrimp from the marinade, discarding marinade, and season with salt and pepper.
Grill the shrimp 3 minutes per side or just until done.
Slice the chorizo in half lengthwise, and then slice into ¼ – inch thick slices.
To assemble, skewer a chorizo slice followed by a grilled shrimp. Serve immediately.
SALAD: BOSTON LETTUCE SIMPLE SALAD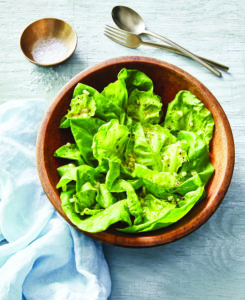 Serves 4          Hands-on 10 minutes             Total 10 minutes
2 tablespoons white wine vinegar
1 small shallot, diced (about 3 tablespoons)
1/3 teaspoon Dijon mustard
¼ teaspoon kosher salt
Freshly ground black pepper
3 tablespoons extra-virgin olive oil
1 head Boston lettuce, torn
Instructions:
Whisk together the vinegar, shallots, Dijon, salt, and pepper in a medium bowl. Add the oil in a slow, steady stream, whisking until smooth.
Drizzle desired amount of the dressing over the lettuce on serving plates.
Ad Lib:
You could add chopped cooked bacon and fresh tomatoes to this if you want something a little heartier.
ENTREE: CREAMY PASTA WITH GARLIC AND PARMESAN  CHEESE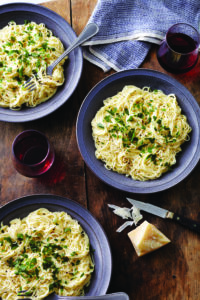 Serves 4          Hands-on 20 minutes             Total 20 minutes
2 tablespoons butter
4 garlic cloves, minced
1/4 teaspoon kosher salt
1/5  teaspoon black pepper
3 cups chicken broth
8 ounces uncooked angel hair pasta
1 cup grated Parmesan cheese
3/4 cup heavy cream
Garnish: chopped fresh parsley
Instructions:
Melt the butter in a large Dutch oven over medium. Add the garlic, and sauté for 30 seconds, stirring constantly. Add the salt, pepper, and chicken broth and bring to a boil over high. Add the pasta, and cook 4 minutes, stirring occasionally, or just until al dente (do not drain).
Reduce the heat to medium, and stir the Parmesan cheese. Remove from the heat, and stir in the cream. Garnish with chopped fresh parsley, if desired, and serve immediately.
Ad lib:
There is none. It's perfect just the way it is! It's a good side for grilled chicken or topped with chopped grilled chicken.
DESSERT: CHOCOLATE FLOURLESS CAKE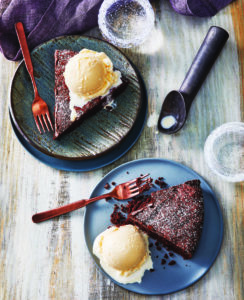 And here you have it: My go-to dinner party dessert. I've made this so many times and it always turns out perfectly—rich, moist, and decadent. I love serving small slices with a dollop of whipped cream or vanilla ice cream on the side. Try this recipe without the cinnamon for classic chocolate or add the cinnamon to give it more of a Mexican chocolate note.
Serves 10 to 12           Hands-on 20 minutes
Total 2 hours, 30 minutes, including cooling
1 cup unsweetened cocoa plus more for dusting
8 ounces bittersweet chocolate, chopped
1 cup unsalted butter
1 1/5 cups sugar
¼ teaspoon ground cinnamon (optional)
6 large eggs
Vanilla ice cream or sweetened whipped cream, for serving
Instructions:
Preheat the oven to 350°
Lightly butter the bottom and sides of a 10-inch springform pan. Dust bottom and sides with the cocoa, shaking to remove excess.
Combine the bittersweet chocolate and butter in a large bowl. Microwave for 1 minute or until completely melted and smooth, stirring at 30-second intervals. (Alternatively, melt in a small metal bowl set over a saucepan of simmering water, stirring until smooth.) Let cool slightly. Whisk in the sugar and cinnamon, if desired. Whisk in the eggs, 1 at a time, whisking well after each addition. Sift the remaining 1 cup cocoa over the mixture, and whisk until just combined.
Pour the batter into the prepared pan, and bake 30 to 35 minutes of just until barely set. Transfer to a wire rack; let cool for 10 minutes. Run a knife around the edges to loosen, and remove sides. Remove to a serving platter, and let cool completely. Dust with additional cocoa or powdered sugar. Serve with ice cream or sweetened whipped cream, if desired.
Ad lib:
I always sweeten any homemade whipped cream with a little powdered sugar and a touch of vanilla extract.
I hope you enjoy your Valentine's Day meal! Remember to tag me and #MartinasKitchenMix on social media if you post any photos.