Martina's Kitchen Mix: Mother's Day Menu
Vodka Limeade Cooler 
Flavia's Deviled Eggs
Avocado Toast with Corn and Tomato Salsa 
Springtime or Anytime Quiche 
Happy Mother's Day everyone!! In honor of the holiday, I've created the perfect Mother's Day brunch menu with recipes from my cookbook, Martina's Kitchen Mix!
Check it out and share the link with your loved ones as a Mother's Day gift hint ; )
As always, listen along to My Recipe Playlist for Real Life on Spotify while cooking and celebrating!
Vodka Limeade Cooler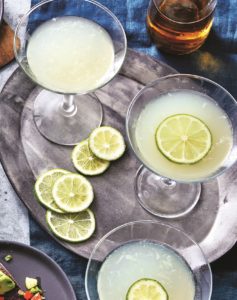 Serves 1
Hands-on: 5 Min
Total: 5 Min
Ingredients:
1 lime, cut into wedges

1 ½ teaspoons Simple Syrup

2 ounces vodka

Garnish: lime slices
Directions:
Muddle the lime wedges and Simple Syrup in a cocktail shaker.

Add the vodka, and fill with ice.

Cover with the lid, and shake vigorously until thoroughly chilled (about 30 seconds).

Strain into a chilled martini glass.

Garnish with lime slices, if desired. Serve immediately.
Flavia's Deviled Eggs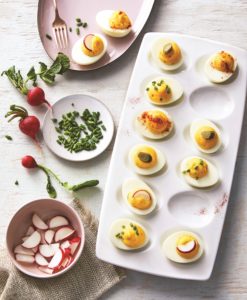 Serves 6
Hands-On: 25 Min
Total: 50 Min
Ingredients:
6 large eggs

3 tablespoons mayonnaise

1 tablespoon Dijon mustard

½ teaspoon prepared horseradish (optional)

1 teaspoon lemon juice

Kosher salt and black pepper

Garnishes: sweet paprika, chives, chopped green onions, cornichons, cayenne pepper, lettuce, radishes
Directions:
Place the eggs in a single layer in a stainless-steel saucepan. (Do not use nonstick.) Add hot water to a depth of 3 inches. Bring to a rolling boil; cover, remove from the heat, and let stand 13 minutes.

Drain immediately and return the eggs to the pan. Fill the pan with cold water and ice. Let eggs cool 10 minutes. Tap each egg firmly on the counter until cracks form all over the shell. Peel under cold running water.

Halve the eggs lengthwise while slightly warm; carefully remove the yolks, keeping the egg whites intact. Mash the yolks with the mayonnaise, mustard, horseradish (if desired), lemon juice, and salt and pepper to taste.

Spoon the yolk mixture into egg white halves, or use a pastry bag for a more decorative touch. Chill thoroughly.

To serve, top with your choice of sweet paprika, chives, chopped green onions, cornichons, or cayenne. Serve on a platter with lettuce and radishes, if desired.
Avocado Toast with Corn and Tomato Salsa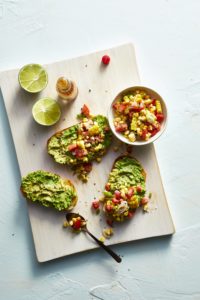 Serves 6
Hands-On: 30 Min
Total: 30 Min
Ingredients:
2 ears of corn (about 1 cup corn kernels)

3 plum tomatoes, diced (1 cup diced tomatoes)

2 green onions, thinly sliced (about 1⁄4 cup)

1 jalapeño, finely chopped

1 tablespoon lime juice (from 1 lime)

3 ripe avocados, cut in half and pitted

6 slices crusty white bread, such as sourdough or ciabatta, toasted or grilled
Directions:
Preheat a grill to medium-high (about 400°F).

Grill the corn, covered, 20 minutes or until charred, turning every 4 to 5 minutes. Let cool and cut the kernels from the cobs. Discard the cobs.

Combine the tomatoes, green onions, jalapeño, corn, and lime juice in a medium bowl. Season to taste with salt.

Scoop the avocado into a small bowl and gently mash, using a fork.

Spread the avocado mash evenly onto each toast. Top evenly with the corn and tomato mixture. Serve immediately.
Springtime (or Anytime) Quiche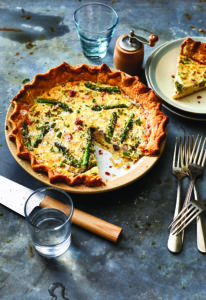 Serves 6
Hands-on: 30 Min
Total: 1 Hr 25 Min
Ingredients:
1/2 (14.1-ounce) package refrigerated piecrust

2 teaspoons olive oil

¼ pound asparagus, trimmed and cut into pieces

3 green onions, chopped (about 1⁄4 cup)

1 cup chopped cooked ham

1 garlic clove, minced

2 large eggs

1 large egg white

1 cup half-and-half (or whole milk)

1 teaspoon soy sauce

2 tablespoons Dijon mustard

¼ teaspoon kosher salt

¼ teaspoon freshly ground black pepper

1 ½ cups grated Swiss cheese

½ cup plus 2 tablespoons grated Parmesan cheese

1 tablespoon chopped fresh oregano

1 tablespoon chopped fresh basil
Directions:
Preheat the oven to 425 ̊F.

Fit piecrust into a 9-inch deep-dish pie plate according to package directions; fold edges under, and crimp. Prick bottom and sides of piecrust with a fork.

Line pastry with aluminum foil, and fill with pie weights or dried beans. Bake for 7 minutes. Remove the weights and foil, and bake 3 to 4 more minutes or until bottom is golden brown. Reduce oven temperature to 400°F.

While piecrust is cooking, heat oil in a medium skillet over medium-high. Add asparagus and green onions, and cook 5 minutes, stirring occasionally, or just until asparagus is tender. Stir in ham and garlic and cook 1 minute longer. Let cool slightly.

Whisk together eggs, egg white, half-and-half, soy sauce, Dijon mustard, salt, and pepper in a medium bowl.

Sprinkle Swiss cheese over bottom of pastry shell. Top with 1⁄2 cup of the Parmesan cheese, oregano, basil, and the ham and asparagus mixture. Pour the egg mixture over top. Sprinkle with the remaining 2 tablespoons Parmesan cheese.

Bake for 35 to 40 minutes or until a knife inserted in the center comes out clean, shielding crust with aluminum foil, if necessary.

Transfer to a wire rack and let cool for 10 minutes before serving.