Martina's Kitchen Mix 
Flourless Chocolate Cake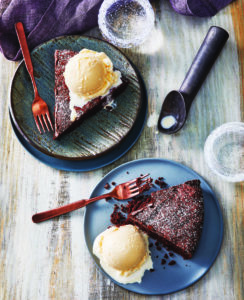 And here you have it: My go-to dinner party dessert. I've made this so many times and it always turns out perfectly—rich, moist, and decadent. I love serving small slices with a dollop of whipped cream or vanilla ice cream on the side. Try this recipe without the cinnamon for classic chocolate or add the cinnamon to give it more of a Mexican chocolate note.
Serves 10 to 12           Hands-on 20 minutes
Total 2 hours, 30 minutes, including cooling
1 cup unsweetened cocoa plus more for dusting
8 ounces bittersweet chocolate, chopped
1 cup unsalted butter
1 1/5 cups sugar
¼ teaspoon ground cinnamon (optional)
6 large eggs
Vanilla ice cream or sweetened whipped cream, for serving
Instructions:
Preheat the oven to 350°
Lightly butter the bottom and sides of a 10-inch springform pan. Dust bottom and sides with the cocoa, shaking to remove excess.
Combine the bittersweet chocolate and butter in a large bowl. Microwave for 1 minute or until completely melted and smooth, stirring at 30-second intervals. (Alternatively, melt in a small metal bowl set over a saucepan of simmering water, stirring until smooth.) Let cool slightly. Whisk in the sugar and cinnamon, if desired. Whisk in the eggs, 1 at a time, whisking well after each addition. Sift the remaining 1 cup cocoa over the mixture, and whisk until just combined.
Pour the batter into the prepared pan, and bake 30 to 35 minutes of just until barely set. Transfer to a wire rack; let cool for 10 minutes. Run a knife around the edges to loosen, and remove sides. Remove to a serving platter, and let cool completely. Dust with additional cocoa or powdered sugar. Serve with ice cream or sweetened whipped cream, if desired.
Ad lib:
I always sweeten any homemade whipped cream with a little powdered sugar and a touch of vanilla extract.