Martina's Kitchen Mix 
Boston Lettuce Simple Salad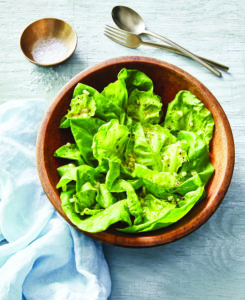 A simple vinaigrette recipe is always good to have on hand. My father-in-law made the best vinaigrette. I asked him how to do it and he showed me once, but I didn't write it down and so… it's gone. But I think this comes pretty close. Boston lettuce is so fluffy and fresh. It's a favorite of mine.
Serves 4          Hands-on 10 minutes             Total 10 minutes
2 tablespoons white wine vinegar
1 small shallot, diced (about 3 tablespoons)
1/3 teaspoon Dijon mustard
¼ teaspoon kosher salt
Freshly ground black pepper
3 tablespoons extra-virgin olive oil
1 head Boston lettuce, torn
Instructions:
Whisk together the vinegar, shallots, Dijon, salt, and pepper in a medium bowl. Add the oil in a slow, steady stream, whisking until smooth.
Drizzle desired amount of the dressing over the lettuce on serving plates.
Ad Lib:
You could add chopped cooked bacon and fresh tomatoes to this if you want something a little heartier.
Purchase Martina's Kitchen Mix
Martina's Kitchen Mix 
Creamy Pasta with Garlic and Parmesan Cheese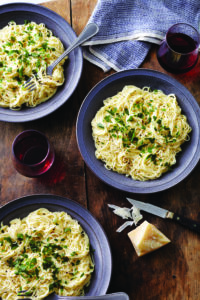 Serves 4          Hands-on 20 minutes             Total 20 minutes
2 tablespoons butter
4 garlic cloves, minced
1/4 teaspoon kosher salt
1/5  teaspoon black pepper
3 cups chicken broth
8 ounces uncooked angel hair pasta
1 cup grated Parmesan cheese
3/4 cup heavy cream
Garnish: chopped fresh parsley
Instructions:
Melt the butter in a large Dutch oven over medium. Add the garlic, and sauté for 30 seconds, stirring constantly. Add the salt, pepper, and chicken broth and bring to a boil over high. Add the pasta, and cook 4 minutes, stirring occasionally, or just until al dente (do not drain).
Reduce the heat to medium, and stir the Parmesan cheese. Remove from the heat, and stir in the cream. Garnish with chopped fresh parsley, if desired, and serve immediately.
Ad lib:
There is none. It's perfect just the way it is! It's a good side for grilled chicken or topped with chopped grilled chicken.